In 2001, Alan Lewis, sent the image along with the following story to Art Bell:
"I have been a faithful listener for years and never thought that I would have any content for your show. Recently, my Father passed away and while I always thought that he worked in the "Black Ops Arena", I never thought that he had anything to do with aliens. Certainly, he never mentioned it. While cleaning out his house, I ran across the attached photo. If you look in the bottom right hand corner of the "container", there is an Area 51 badge. I can't provide any proof that this is a genuine photo, however, the original didn't look faked to me."
It's now quite popular. As with most of the alien photos, most people wouldn't vouch for its authenticity (including the original sender, in this case), but many wonder "what if".
There's no if in this case as the alien should be familiar. It's one of the most readily available alien props. It can be bought from Amazon for a couple hundred dollars.
Although the identification of the alien as a common latex prop conclusively explains the image to any reasonable person, there's still the question as to where and who created that exact display.
During the preliminary research for this series of posts, I stumbled by accident with the following image: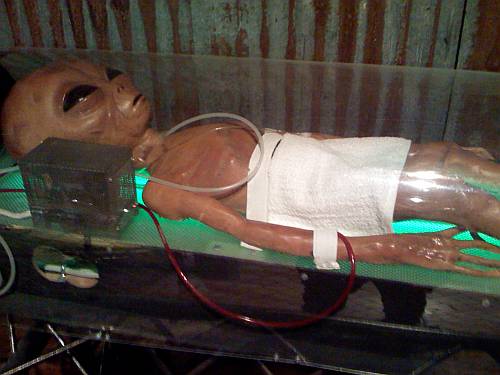 It's from Nick Kask's flickr, published on October 2007. It was taken at the Soutch Carolina State Museum, during the "ALIENS: Worlds of Possibilities" exhibit.
The exhibit seems to have started in 1998, and perhaps one of the first versions of the display was the one photographed with Lewis father – if we are to believe the original story. It seems to have received some other tubes since.
It's yet another case where the photo of an alien display is being promoted as the real thing.
Popularity: 3% [?]
Posted in
Aliens
|
5 comments